The Snail and the Swan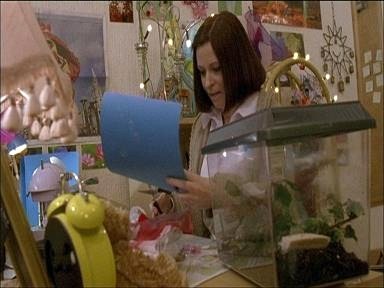 Duration: 10 minutes
Format: 16mm

Cast

Sophie - Lisa Norris
Sophie's Mother - Mandy Giles
Tina – Emmalouise West

Crew

Director - Emily Mason
Writer - Charlotte Mills
Producers - Charlotte Woolley and Katherine Turnbull
Sound - Dean Stone
Director of Cinematography - Abigail Adams
Editors - Charlotte Woolley and Katherine Turnbull
The Film
Sophie (27) works in a dreary office where everyone keeps to themselves behind their cubicle walls. Fuelled by her mother's criticism, inspired by guerrilla art in the form of a painted snail that she finds coming home after work, and wanting to show off her crafty items Sophie tries brightening up people's day by leaving curious things on their desks. Against resistant and ignorant colleagues and a boss with no tolerance for any decline in work she persists in her campaign with the support of one co-worker (Tina) that she has inspired, together they work on one big piece that makes everyone take notice and proves to herself the validity and beauty of her art.
A small insight into the different problems we encountered
The Snail and the Swan was a ten minute graduation film, where the script ran in at about twenty minutes the film was riddled with problems and issues that I won't go into, the most I took from this film was the challenges I faced as a co-producer.
Set in a boring office, we looked at various locations in both Cardiff and Newport, some amazing offices were seen, while pricey at around £50-80/day they would have exuded a certain amount of plausibility, we found that the constraints on filming were too great, so we looked elsewhere; the university's office-like rooms. Once that was sorted we needed an office buzzing with workers, using various casting websites and we should have been sorted, until we found that we only had about 5 people that actually confirmed they would make it, and this was two days before the shoot was to begin, nothing was coming from the casting websites, so we sat down and phoned up anyone we knew, which worked fairly successfully ; of all the people we rallied up, only two didn't show.
After that issue, two days into filming our supporting role pulled out while we were filming - he never turned up - for no reason other than he was hungover, and ruined a whole day of filming, not to mention about £40 in film stock.
This called for me and my co-producer to hunt around for a new actor, in the end we decided a script change was required, all the men we had auditioned for Arthur all seemed unreliable, none of them turning up to their first auditions. So Arthur was changed to Tina, and I asked a friend of mine if we could bump up the role she had already been given, we filmed as practically as possible, filming all we needed, scheduling was difficult with some actors only available certain days, but I think I can say we were quite successful, with a film taking place over 7 days, continuity was adhered to and everything I had scheduled in for a day's filming worked.
As most graduating students do, we set our goals as high as possible to have the final chance to try out as many different challenges as possible, and I personally feel that we came out with a decent film.
If you have any queries regarding the film, please feel free to send me an email.